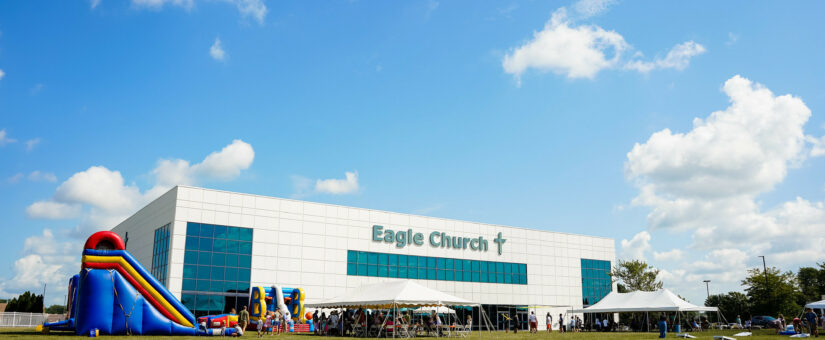 Posted by Babs Mullinax
On July 11, 2022
0 Comments
Alliance Midwest District, Eagle Church, elder development, leadership development
Eagle Church is a staff-led, elder-oversight church.
No, we are not about to get into church by-laws.  We are not about to argue the paradigms for leading and staffing churches.  We are just establishing a starting place which unintentionally led to a multiverse of leadership.  Though, it didn't have to…
Here is the honest journey of a church to recognizing the need for reformation in their leadership structure – which, to be completely honest, is still a staff-led, elder-oversight church. So, what has changed?
The pandemic brought a good bit of transition and loss for many of our churches across the landscape of America and felt intimately in our district.  Eagle Church, to some extent, was spared the gaping losses of leadership as only three of their elders transitioned out of pre-defined terms during the last two or three years.  Where the church did start to feel the impact of loss in a relatively short amount of time was in their pastoral staff as one, then two, and then three pastors or directors were reassigned to different places by the Lord.  There was an immediate vacuum of staff that needed to be suddenly addressed.
Two Streams of Leadership
This staffing shortage brought the two streams of leadership together as the elders were assigned to the staff as liaisons for encouragement, spiritual accountability, and to serve as a sounding board for them.  It was at this point that Eric Simpson, lead pastor of Eagle Church, began to realize that the leadership structures had been running parallel to each other for the most part, siloed from each other's week-to-week ministry, and thus revealing a lack of cohesion.  The elders had become distant from the staff, who were the ministry practitioners.  This lack of cohesion was exposed itself as each elder took a different approach to the staff member they were assigned to – all out of the best intentions.  Some elders, by nature, were very spiritual in their oversight of staff members, whereas some elders, also by nature or professional training, answered the challenge with operational management principles.  For the most part, the solution created a day-to-day management staffing workaround that was still disjointed in mission and vision. It was, you could say, a multiverse of ministry and management.
It took this immediate staffing need to expose a greater and deeper need for realigning the staff-led, elder-oversight leadership of Eagle Church.  In their response to sudden change, the underexamined expectations, assumptions, and boundaries of this highly gifted team rose to the surface in dissimilar ways.
Fantastic!
Isn't that the way the Lord works in our own personal lives?  He puts us into the heat to let the inconsistences and contaminates rise to the surface of our awareness in order to be removed from our souls and leave us pure.  Praise God he does the same thing with those appointed with the leadership of our churches!  Praise God they can respond in humility and submission, which is what Eric and his elders have begun to do!
See a Need, Fill a Need
Eric and these eleven men in an elder boardroom have recognized the need to identify and mentor more men and lead them toward the qualifications of eldership.  "If previous elders were identified and qualified, it happened by the provision and grace of the Lord," Eric says. "Not because we were intentional about developing and discipling them."  In becoming intentional about this, the role of the elder board is elevated beyond the operational management of a church.
Additionally, Eric has a few more goals he and the elders are working toward, with the encouragement and prompting of District Superintendent, Bob Petty:
Build bridges between the elders and the staff to eliminate the parallel and seldom connecting streams of ministry
Build a bigger pool of leadership candidates
Define what the elders' spiritual ministry is at Eagle Church
Personally connect with one another spiritually
Just a few months into this intentional reformation of the elder board, Eric is already seeing change.  "There's a change in the feeling when you walk into the room for a meeting," he says brightly.  "There is spiritual companionship – a real community.  Our active prayer life together has increased.  We linger to talk more at church, and elders are even connecting more interpersonally between elder meetings."
To intentionally staff toward this new leadership paradigm in the pre-existing structure where the staff and elders are working in tandem with clearly outlined expectations, Ted Harris was brought in as an associate pastor and is primarily responsible for staff relations. Ted, Eric, Stephen Smith (board chairman), and Matt Whitacre (board vice-chairman) have forged a new team called "the team of four", or the Fantastic Four for those MCU fans. In the previous structure, Eric and Stephen would carry the bulk of the visioning and strategy load for Eagle Church.  This new team is working in the space of vision, ministry strategy, problem solving, prioritization, and looking ahead at what topics they lead the elders and staff to focus on.  The goals of this "team of four" are to share the leadership load, lean into the strength that collaboration provides, and bridge the gap between staff leadership and elder leadership.
Introspection
Eric is also examining his own leadership style, having spent time in the heat and recognizing what the Lord has brought to the surface of his own soul.  "I've been a pastor for 28 years (nineteen years in various pastoral roles and nine years as a lead pastor).  I'm like a fish in water, but I only know this water.  I'm open to others speaking into my life to show me something different."  Eric recounts the valuable mentorship he's received from Canadian Alliance pastor, Sunder Krishnan, and more recently from Bob Petty and Ted Harris.  "I don't want to outstretch my capacity and burnout," Eric honestly admits. In choosing his mentors, he has pretty strict qualifications that we could also use to filter our own mentors.  "Whom do I listen to?" Eric asks.
It can't be the masses, although they all have something to say.
They must be a sacred companion: They have to know both me and the Lord well.
They must have been in my seat themselves (lead pastor or whatever role you're in).
They've got to have enough scars to lead me through mine.
Everything Has Changed, and It Hasn't…
Eagle Church has shared their honest journey of a being a church that recognized the need for reformation in their leadership structure – which is still a staff-led, elder-oversight church, but with intentionally examined expectations, assumptions, and boundaries. They have responded to sudden change in staffing by humbly examining themselves and intentionally submitting to the Lord's refining of their ministry roles and expectations.
He has shown you, O mortal, what is good.
And what does the Lord require of you?
To act justly and to love mercy
and to walk humbly  with your God.

Micah 6:8