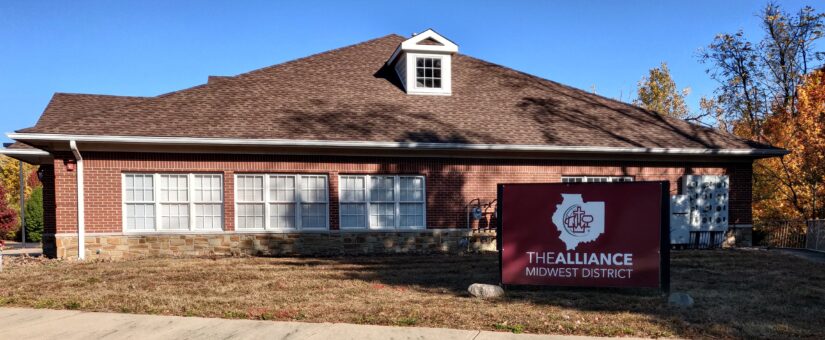 Posted by Babs Mullinax
On October 8, 2020
0 Comments
district updates, new district office
Not only did we get a new web site, we got a new office for the Midwest District! Actually, the office came first… We moved from the Chicago area to the Indianapolis area in the middle of July 2020 after the building went through significant remodeling by handyman and pastor Greg Lex. The district staff is now happily buzzing about on your behalf doing the work of the King in Illinois and Indiana. We share the space with Holy Church – a Congolese church plant.
But why do we love this new place so much?
We love it for all the resources it provides to district ministries.
Ease of Access
Yes, we're only twenty minutes away from Indianapolis International Airport, and while it's pretty easy to get to us from I-65, I-69, or I-70, it's the ease of access to our churches that we're really excited about. Located on the west side of Indianapolis, we're only a few hours from reaching every church in our district! Oh, and we have plenty of parking, too – in hopes that you want to come to us.
Virtual and Practical
Our conference room is equipped with lots of whiteboard space, a large TV, and a sound and audio bar for virtually (and professionally) hosting meeting participants. The district staff is particularly excited to share this space with your for your meetings and training needs – whether or not you need us involved! It also has an attached café for catered lunches or carry-in's.
Church Plants
Half of the building will always be used for a church plant, with a hospitality area, lots of bathroom stalls, a large sanctuary, and classroom space.
Future Possibility
This new district office sits on several wooded acres with a picturesque creek babbling through the middle, and we have a house connected to the property. With future development firmly in our imaginations, we can't wait for the day when this house becomes a reality for retreat ministry and hosting teams for training opportunities.
---
Come visit! The coffee's on!