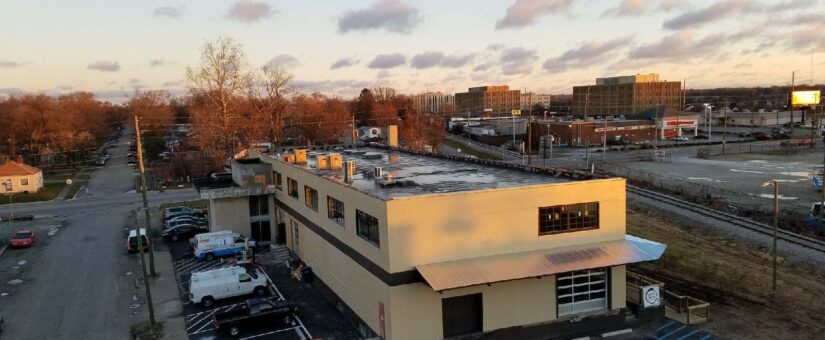 Posted by Babs Mullinax
On October 8, 2021
0 Comments
Rodney Atkins' country song, Watching You, has the following chorus:
He said I've been watching you dad, ain't that cool
I'm your buckaroo, I wanna be like you
And eat all my food and grow as tall as you are
We got cowboy boots and camo pants
Yeah we're just alike, hey ain't we dad
I wanna do everything you do
So I've been watching you
After talking to a new church plant in central Indianapolis, I feel like this chorus describes them perfectly.
Ruah, which in Hebrew means breath or spirit, is a church plant that began and grew at the same time as the COVID restrictions in 2020. They've recently moved into their own space… kind of… Maybe it's best to say that they've recently moved into their own neighborhood. The space they're in is Refinery 46, a community-shared 24/7 come-and-go office and conference space. It's designed for entrepreneurial start-ups, remote workers, small businesses that don't need a large office footprint, and is just two blocks from where their church community lives and works. What is most interesting is that they are across the street from a well-marked church building that mostly has online offerings, while Ruah itself is an in-person gathering with absolutely no street presence. Why does that work?!
Because of the song.
The song is about an organic discipleship relationship. It's about living in relationship with someone who is watching and inheriting your behaviors and rhythms in life because they admire Jesus in you. Alexander Breytenbach and Max Gross, the pastors at Ruah, were the buckaroos of Tyler Shirley and Forrest Brown, the pastors at Exit Church in Gas City, IN.
Exit Church is one of those churches positioned between two large college campuses, so they have a rotating congregation – four years at max for the year-round congregation to invest in students and then send graduates off to influence their world wherever they settle. Alexander and Max were two of these college students. Max was pursuing his ministry degree when Forrest invited Max into a Sunday evening Bible study designed for a future church plant among college graduates where they were putting down roots – Indianapolis (a vision of Darren Campbell, the pastor who planted Exit Church). After graduation Max had plans to teach in China, but his ministry degree became a barrier to obtaining a visa. Plan B was to go to seminary in Grand Rapids, MI, but God intercepted his plans with a man named Brad. Brad owned a wood floor company and a building for student housing. Both ventures are expressions of business-as-ministry. He purposefully fills the student housing and floor crews with Muslim students and seeds solid believers among them. Brad was inviting Max to plant some seeds with him. It complimented Max' background in construction and his call to ministry, so instead of moving to Michigan, Max settled in Indianapolis.
Meanwhile, Alexander was teaching with Teach for America and had plans to pursue a medical degree. Forrest got a hold of Alexander at a milestone moment in his life – he had been dating a girl for four years already. "Why not get married to her?" was the simple straight-forward question that Forrest asked at the beginning of his friendship with Alexander. Pause. That's what Alexander's brain did. Pause. Why not? Pause. Life change.
Not only did Alexander get married, but he finally caught up to the path Tyler, Forrest, and his wife knew was his – church planting. He probably felt a bit like Moses – unprepared and with all the challenges of inadequacy in front of him. Afterall, he didn't even have a ministry degree. God didn't see a problem; he saw a team: Max and Alexander. And God didn't see inadequacies. Alexander says he was raised to know, love, and memorize Scripture from before being saved (even though they were dead to him then). That was a great complement to a solid discipleship relationship and growth in the knowledge and application of the scriptures through what Alexander terms, "a poor man's seminary" – books, podcasts, et cetera. Thus was the Sunday evening Bible study among college graduates in Indianapolis passed on to Max and Alexander. Ruah was born.
Why is this origin story so important to Ruah? Because you replicate what you are. Buckaroos make buckaroos. Ruah has now quadrupled in size, and completely among the 20–30-year-old demographic! That is written with a smile, because when you begin with small numbers you can make audacious claims like that with just a few more people added to your church body. But why not celebrate it?! Remember – Ruah has no street presence. There is not one sign to tell you there is a church meeting in Refinery 46, and they are across from a very well-marked church. How are they quadrupling in size?! Because buckaroos make buckaroos.
Alexander and Max planted Ruah as bi-vocational pastors in their own neighborhood. Just like Tyler and Forrest modeled living out their scriptures in their daily lives, Alexander and Max lived out the scriptures in their daily lives. Just like Tyler and Forrest invited people outside the church context into a deeper relationship, Alexander and Max are inviting people from work and Jiu Jitsu and coffee shops into deeper relationship (with them and with the Lord). Those people are becoming a family dedicated the relentless pursuit of Truth living actively in their everyday lives. In fact, the mission of Ruah is, "A community that runs after the Lord together." These family members are living out the scriptures in their daily lives and inviting their coworkers into deeper relationship. Together this family is structuring itself for discipleship growth. They meet Sunday afternoons with dinner afterward, a day for a prayer meeting, a day for Bible study, and an additional time in separate gender groups for accountability; and they are also actively social together outside of these times in an organic fashion. It's truly a community – one that welcomes and lovingly pursues new members as they come to satiate a growing hunger for the Lord because they see this community savoring God and his Word in every aspect of their lives.
One example of this is Maddie and Jared. Maddie knew Jared from college, but Jared had hit a rough patch in his life. Maddie says, "All I need to do is get him to my guys at Ruah, and God will do the rest." She saw Jared's need for encouragement, so she invited him to come to Ruah for that. At church Jared met Tim, who followed-up with Jared over coffee 1-2 weeks later. It was during this time that the whole church rallied around Jared for discipleship, and he became saved. Now Jared is discipling someone else in his own neighborhood, with the support of the community that is Ruah.
This is how Ruah is growing without having any signage (clever or otherwise). If someone shows up, it's because someone invited them – someone who is relationally invested in that person's faith journey. Sundays are designed to feed, strengthen, and equip their people and then to send them out to live it out. "Everything we do," say the pastors, "fosters a hunger for more truth – even the liturgical elements we use. We're seeing the outworking of that in their own lives including in romantic relationships and in relationships with people's parents."
Another example is Mark. Mark went from being an atheist to being a strong Biblical leader in his own family. Mark got married to a young believer who had been trying to get him to church. He complained that he could "see right through" every church they visited. When the couple moved to Indianapolis, one of her coworkers invited them to Ruah right as the pastors were beginning a sermon series on Hosea. Mark reflected later, "You said that prophecy is spoken and confirmed later, and you guys live like you believe it." That statement caused Mark to read Scripture for himself, which transformed him. They have since moved out of state, but it is Mark that is leading his family to find a home in another Biblically centered church body like Ruah.
It bears repeating, it's not about the space they use. Ruah does rent office space in Refinery 46 in addition to having access to the community-shared meeting spaces, and their office is open to their church community coming and going. On Mondays and Tuesdays you will find three to four guys meeting at the folding table shoved along the left wall in the large rectangular office or using someone's second hand office furniture (the chairs ironically remind me of a pew minimized into a chair). Piled on the right wall is the minimal A/V equipment used on Sundays, and a flight of hot sauce (this makes sense if you follow the Hot Ones on YouTube). In the back left corner is the largest bean bag you'll ever find. Ever. Among this stands an expertly crafted pulpit with "Soli Deo Gloria" engraved on it – an example of the Ruah community using their gifts together. Why do I dedicate a paragraph to mention a "stash" room like this? Because this is all that this age group needs. Nothing fancy; they'll make it their own. They just want access to each other's lives and to contribute to the community with their giftedness. They want to be buckaroos – an organic discipleship relationship. It's about living in relationship with someone who is watching and inheriting your behaviors and rhythms in life because they admire Jesus in you.
As a later verse goes in Rodney Atkins' song:
We got back home and I went to the barn
I bowed my head and I prayed real hard
Said lord please help me help my stupid self
Then this side of bedtime later that night
Turning on my son's scooby doo nightlight
He crawled out of bed and he got down on his knees
He closed his little eyes, folded his little hands
And spoke to God like he was talking to a friend
And I said son now where'd you learn to pray like that
He said I've been watching you dad, ain't that cool
I'm your buckaroo, I wanna be like you
Who are your buckaroos?