Posted by Babs Mullinax
On March 16, 2022
0 Comments
hope chapel, midwest district, monroe lighthouse, new churches
We have two new church families to welcome to the Midwest District!  These churches have joined us from other denominations because they identify more strongly with our doctrine, our vision, and our identity of being a family on mission together.  Their path to our district family wasn't necessarily an easy journey; but it was a necessary one to solidify their identity, vision, and values in the greater body of Christ.
Here are their stories:
HOPE CHAPEL, Belleville, IL (near St. Louis)
David Raynaud, Pastor
"The company you keep matters."
I heard this phrase a thousand times growing up from both my mom and dad, but because I knew it all then, I didn't pay too much attention. The older I got, however, the more the reality of those words became important to all of life. And, maybe nowhere more important than the company you keep in your walk of faith.
Hope Chapel became affiliated with the Alliance in February of 2020. Our complete journey is a longer story for another day, but it includes starting fresh (think no meeting place, no money, no covering), adventure (think almost everything unfamiliar) and learning to depend on God's faithfulness in new ways (think a dozen different meeting places in two years). And it includes the reality that long before we would ever become affiliated with the Alliance, God saw fit to intersect us with the C&MA and begin to build relationships with some of the leadership of the Midwest District at that time. We met people like Jon Rich, Chad Smith, Bob Petty, and Kurt Sovine, and quickly formed relationships not around denominational affiliation, but around Jesus and what He is doing.  In truth, it was a breath of fresh air.
Hope Chapel began by observing this group over a period of several years.  Maybe we could better describe the group as a family? A denomination? We didn't understand at first what it really was, but we knew we were appreciative of what we saw. We were welcome; not for our potential to add to the number of churches, or people, or giving units for an annual report, but for who Jesus had called us to be, what He was doing in us, and how that might impact the Kingdom in this region. Again, a breath of fresh air.
We found ourselves quickly building genuine meaningful relationships with those serving in the district and national leadership. We found the authenticity, vision, and Gospel partnerships we desired, and the sense of family we needed. We found a group of believers who were willing to face head on their imperfections, deal honestly and openly with difficulty, and be willing to change where necessary. We saw the zeal for the Gospel to reach the nations and for Jesus to transform lives.  We saw a desire to focus on the essentials of our shared faith, discuss the areas where we might see things a bit differently, but at the end of the day remain unified. We have been encouraged, supported, guided, challenged, and even reminded of the accountability that comes with being a part of this family.
Fresh air.
It is our hope that though our entry point (during Covid) was not the greatest timing for building relationships, and our location (on the far western frontier of the Midwest District) is not the best for engaging others in the Alliance family (at least at this point), that as we make the effort to open our doors and hearts to this family, that we will build lasting partnerships and serve Jesus with all of you to our maximum potential.
The company you keep matters … and we are grateful and excited to continue together the work of Jesus with you.
A Home at Last: Demolition on New Property
LIGHTHOUSE, Monroe, IN (northeast IN)
Dave Myers, Pastor
The story of a C&MA pastor ending up at a United Methodist Church (UMC) which ended up becoming an Alliance church is a really long one, but I like to call it a God ordained course correction for both of us.
I graduated from Asbury Theological Seminary (which is NOT a UMC seminary, contrary to what many people think).  It was during my time there that I noticed that my personal beliefs matched up with what was being taught by my conservative professors, but not with what was being practiced across the United Methodist denomination.  A retired UMC missionary that advised me to check out the Alliance.  That gentle nudge began my career as a pastor in the C&MA.  We loved being a part of the C&MA family and planned on serving within this beautiful Acts 1:8 family as long as we could, but God seemed to have a different path in mind.  Following some difficult times in ministry my family decided to step away from ministry for a while.
I bounced around, as if tossed about by waves, trying to find where I fit in the secular career world.  Nothing seemed to be a good fit; but every time I walked past the United Methodist Church I had grown up in, ideas of how we could reach this community would flood my brain.  I always dismissed it with, "That will never happen."  You know the same God I do – our God who loves to write impossible stories with unlikely twists: A few years later I got asked by the church if I would be willing to talk to the UMC because they didn't have a pastor to put at the church.  I reluctantly said yes, thinking there was no way this was going to happen.  A few months later I was appointed to the Monroe UMC.  This was the church I had grown up in, met my wife in, and got married in.  Was this going to be a recipe for success or disaster?  Only six months after my arrival at the Monroe UMC church it was evident that the UMC and myself were still on divergent paths theologically.
As you are probably already aware, the main issue within the UMC is about ordaining gay pastors and performing same sex marriages.  This issue is a political powder keg, but it is really just a symptom of a much deeper issue that is often not portrayed in mainstream media.  For our church in Monroe, Indiana, it came down to a matter of the authority of Scripture.  We hold Scripture in very high regard, and we do not believe that we can simply pick and choose what we are going to believe and what we are going to ignore.  As a pastor I believe that it is my job to preach and teach the whole counsel of Scripture free from my own bias and preferences.  Our church UMC meetings and read posts by leaders in the UMC who were questioning the relevancy and authority of Scripture.  Some even went so far as to say that it was "outdated and irrelevant".  That was where we drew the line.  We knew we had to take a stand.  And so we began the process of leaving the UMC.
Toward the beginning of our exodus, we had the pleasure of former District Superintendent Jon Rich speaking at our church.  Coincidentally, it would be the last time he spoke in a church before his retirement.  Fitting, since he graduated from our local high school and was a classmate of several people from our congregation.  That Sunday I believe a seed was planted – especially when Jon pointed out how this church has faithfully supported the C&MA Great Commission Fund for the entire time that my sister has been with the Alliance.  Missions has always been at the core of who this church was in the past and will continue to be in the future.
Our original plan was to ease into a relationship with the C&MA, gradually introducing its doctrine and values to our church in the transition period; but as I taught about the fourfold gospel and the core beliefs of the C&MA, it became apparent that this church was more Alliance in their theology than they had ever realized.  Combined with the fact that they had a long relationship with C&MA missions, the question soon became, "Why not just be accredited with the Alliance?"
I guess I could have started this story by saying, "There was this pastoral family, lost in a sea of pain, adrift in the vast ocean, looking for a light to guide them home.  As they floated around they came upon this grand old ship.  You could tell that she was once the pride of the fleet but the years had not been kind.  She had been through some rough seas and she had wandered off course.  That ship threw them a life preserver, a glimmer of hope.  And as they boarded that ship, a light could be seen in the distance that would guide both of them safely home."  That light was the truth of God's Holy Scriptures.  It led us though our darkest times as a family and it led this church to begin a new adventure with the C&MA.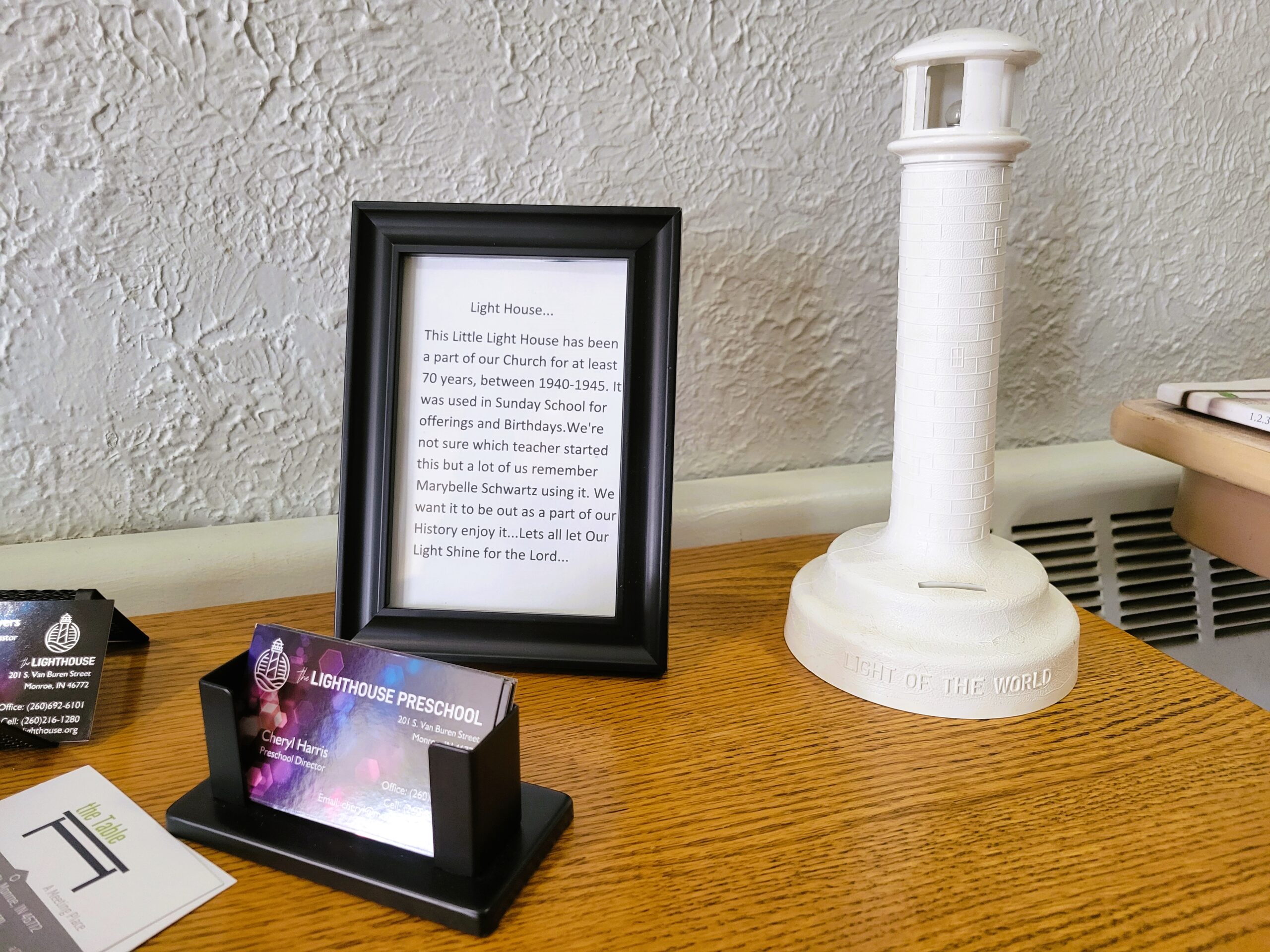 It is only fitting that we renamed the church The Lighthouse.   I know a ton of churches have that name.  For our church, though, it is a name and symbol that has been intricately woven into our DNA since the start of this church in 1877.  When you walk in our front door you will see a little white plastic lighthouse that was passed around children's Sunday School classes for over 40 years.  When it was your birthday you could put in the number of pennies that matched your age.  Each time you put a penny in it lit up!  It was quite a thrill and quite an honor as a kid to get to do this.  Whenever the bank got full, it was emptied, and the money went to world missions.  As you walk around the church you will find other lighthouses, all with a different story but all with the same purpose – to provide a guiding light.  Fitting for a church hoping to continue a legacy of doing the same.