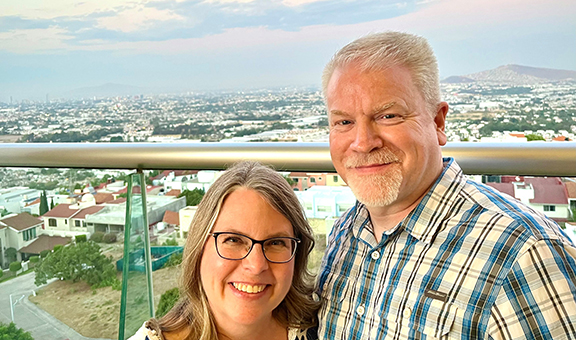 Posted by Babs Mullinax
On May 31, 2022
0 Comments
CAMA, Mark and Sue Davis, new international workers
Their life is anything but normal.  It is normal, but not to most of the world.  It only seems normal to Mark and Sue Davis because "normal" for them is a lifestyle of taking God at His word, serving the least-reached, and severely depending on His promises.  Of course, that's why our "normal" shouldn't look normal to others, either.  God is intensely personal and creative; His plans for us are beautifully woven into the fabric of others' lives.  When "normal" means we take Him at His word and depend on His goodness as He directs us, our lives won't look… well… normal, either.
Sue Davis received the call to missions as a young child.  She started pursuing studies that would prepare her for the undefined mission field she was called to, including being a wilderness survival guide even as a high school student, and later studying to become a nurse practitioner – practical skills, she thought, for wherever the Lord may choose to send her.  While developing practical skills were important (especially as she and Mark found themselves marooned on a Hawaii beach after a hurricane on their honeymoon), of even more importance was their practice of listening and obeying the directions of the Holy Spirit – especially when all the details in the plan are not laid bare.
This came to a dramatic fruition when, even before she completed her nurse practitioner degree, God gave Mark and Sue the vision for a medical clinic to help society's forgotten members.  As Sue worked through her studies to become a nurse practitioner, more and more congregants would approach her asking for advice.  Sue began to realize how confusing the healthcare system can be to navigate.  How much more does the non-native citizen need help?  She had grown up in a church where, "if you didn't have gray hair, you didn't have a good idea," as Sue affectionately recounts, so proposing the idea of a clinic ministry to her new church was a little daunting.  However, God had put a similar dream on their pastor's heart years earlier, so when they verbalized their vision, it was an instant green light to everybody's surprise.  What's more, they were part of a small group that was very diversely gifted – gifted in areas that you wouldn't assume could help the kingdom at first; but gifted in areas that would give instant breath to this dream of a clinic.
Nineteen years later, the Bolingbrook Christian Health Center has helped 1,500 individuals/year receive health care and Jesus and they are now preparing to pass it to another generation of leadership.
Why?
Because that was Mark and Sue's gift to the body of Christ while they were here, but there was still this call to missions that hadn't found full expression in their lives.  They had raised their three daughters with a heart for service and missions among people unlike themselves, frequently taking short-term missions trips as a family.  So much so, in fact, that one of their daughter's colleges recognized her as a third culture kid (TCK) before she identified herself as that.  "She found her people," her parents say with great contentment.
It was on one of these short-term trips that Mark came to a deep level of comfort with his call to missions.  "Our oldest daughter got in contact with a short-term opportunity in Honduras," Mark explains.  The next year she decided to go alone without the larger group.  Mark didn't want her to go alone, so he chaperoned her for the flight and the trip to the orphanage rather than telling her she couldn't go.  After that his brother-in-law connected them with an opportunity in Nicaragua, so the entire Davis clan took a three-week mission trip together working with kids and families.  "Others may consider a trip to Nicaragua a risk. People made comments that we brought our entire family – young ones and all."  The Davises explained that they saw too often that missions was relegated to a high school experience, and they were determined to change that in their church. "Missions is for everyone – families, singles, young people, and old people – and to experience it together." Sue summarizes.
"That trip was the most life changing event in our family – we were with each other all three weeks: serving together and building friendships together." It was serving in Nicaragua with his family when it became obvious that Mark was very comfortable serving in cross cultural settings.  Yes, he still has a heart for Nicaragua, and yes, he is still open and willing to go where Jesus sends him.
The specificity of their call to missions wasn't satisfied with either the clinic or the short-term trips.  Mark and Sue agreed to settle their daughters into adulthood (their youngest has just completed her freshman year at college) before entering secular retirement and pursuing missions full time.  They took several faith-fill steps to honor their commitment to the Lord, such as beginning to transition the clinic to different leadership and having conversations of closure with their patients and friends – all while not even knowing how or where they would be living out their long-time call.  This is especially remarkable because Mark's vocation is as a project planner – it's all about the details and the timeline!
As part of their search, Mark and Sue made appointments with all four missions structures in the Alliance: aXcess, Envision, marketplace ministries, and CAMA.  They were determined to go long term, but they wanted to find the right fit for themselves and their strategy.  What they discovered (and what a lot of people don't know) is that you can do anything in any of those structures.  You can teach, preach, plant, develop, and have a vocational presence in every branch of Alliance Missions.  What distinguishes one from another is how you're wired.  If you'll do anything you need in order to establish and build the church in a culture where less than 2% know who Jesus is, you probably belong with aXcess.  You could consider Envision if you have anywhere from one month to two years to focus on developing your ministry skills in a cross-cultural context (and if you like developing people for ministry full-time, you still have a place in Envision).  If you have a job in another culture and while you're there you are committed to being a disciple-replicator, you probably belong with marketplace ministries.  If you'll do anything for impact and development in communities around the world in Jesus's name, even if it is as traditional sounding as church planting for twenty years, then CAMA is your go-to structure.  After all the conversations, the Davises decided to be the first CAMA team members to work alongside an aXcess team in Guadalajara, Mexico so that community impact and building the church could grow simultaneously and interdependently.
"This isn't a surprise to anybody – we're just changing the location of our service," Mark explains. "Our service as a family has always been outside our comfort zones and to people in poverty. These are God's people.  He loves them, so we're going to love them, too.  Service takes a high percentage of our time.  Missions is just a change of address."
Sue adds, "God has placed us in situations where the only way through was to walk with Him in faith, letting Him provide through His people, and watching as His did the amazing and miraculous.  This made it obvious that the glory was all His.  God has taught me to weave our stories into conversations that organically brings Jesus into the conversation.  This has allowed our faith to grow deeper and deeper and to see how God has moved when we do these really simple things."
Sharing the news hasn't been without difficulty.  Some have thought that leaving the country at this time in their lives meant choosing Mexico over their family.  Sue says, "I'm never not choosing my family.  God can do both.  Learning how to parent when your kids are in college is a different kind of parenting, for example.  We understand that our family will still be family, even if it is long distance.  Even in our experience parenting during college, our heart-to-hearts were more precious than face-to-face in some ways, because there was more time for processing in between conversations.  This is a new place in our adventure as we are moving into a different phase of adulthood with each of our children and the aging experiences of our parents. When we need to be present, God will make that possible."
What is of particular interest in the Davis story is that they applied to the CAMA position void of their professional identities, even though they had used their professional identities so sacrificially for the kingdom thus far.  Most of us would look at how we've been trained and ask where God would like to use our training.  And He does!  Moreso, though, God will ask to use us.  Just us.  Just as we are and as though we had no training whatsoever.  He is more interested in the pliability of our hearts toward people, and He will take responsibility for the equipping we need where He sends us.  Mark and Sue leaned into their early disciplines of listening to the Holy Spirit's direction and took steps of faith when asked.  They left the details to the Lord, knowing from His promises and faithfulness that He would supply their need.  The Davises were interviewed, approved, and appointed to this team in Guadalajara before any of the details started emerging.  They accepted out of sheer obedience, and then waited to see the goodness of God unleashed.  For example, at Bolingbrook Health Clinic 94% of their patients are Hispanic, 90% of which are Mexican.  The majority of their Mexican patients are from Jalisco, Mexico – which happens to be where their team is planting churches, so the Spanish Sue has been hearing all these years will be the Spanish she'll be learning! And they are already being connected by their patients with family members in Guadalajara!
"Now," they laugh, "We roped some very dear friends into coming with us.  They're praying to come to Guadalajara with us soon!"  The friends had, over the years, wanted to go to Nicaragua with Mark and Sue, but they always wondered if they were actually called to go to Mexico. As the Davises plans shifted and their friends continued to feel led to move in that direction, Sue noted, "Another way God is caring for us! How sweet it is that God would send such dear friends with us, as well."
Mark and Sue Davis will be departing for their new team September 1st.  If you would like to be added to their newsletter and/or receive a prayer card, you can contact them at marksusan3@yahoo.com.